Copper/ASDL Lines Test Catalogue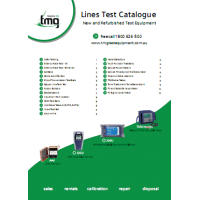 TMG Test Equipment have been supporting the telecommunications sector with industry approved test and measurement equipment for over 25 years. We have been able to offer an excellent range of New and Refurbished solutions to meet the requirements of all technicians working on a variety of networks over this period.
Our refurbished equipment line provides a cost effective alternative to our new selection and undergoes a meticulous quality assurance program performed on site in our ISO 9001 and NATA ISO 17025 accredited repair and calibration facilities.
All equipment is provided with warranty, after sales support and the guarantee that you have purchased quality products from a quality accredited company.
Please use the quick quote request to forward products of interest (or call us), our experienced sales staff will contact you within 4 business hours to provide additional delivery information or process your order as required.
We take pride in assisting our customers in any way possible so feel free to contact us at any stage, we look forward to hearing from you.
Test Equipment Short Form Catalogue for the Copper/ASDL Lines Testing
| Manufacturer [+] [-] | Model [+] [-] | Product Image | Short Description | Request Quick Quote |
| --- | --- | --- | --- | --- |
| JDSU | TP650 | | TestifierPRO cable tester | |
| Manufacturer [+] [-] | Model [+] [-] | Product Image | Short Description | Request Quick Quote |
| --- | --- | --- | --- | --- |
| JDSU | KP106 | | Latch-Test + Resi-Tracer & Probe | |
All prices shown are in Australian Dollars and exclude GST, calibration, and delivery. Please submit a quotation request with your contact details to finalise pricing