Product Categories >
JDSU
SPM-36A Level Meter 50HZ-3.5MHZ: CF connectors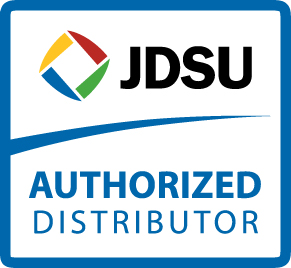 | | |
| --- | --- |
| Specifications: | |
Description
The SPM Selective Level Meters are compact meters used for service, installation, and field testing. They provide interface measurements on network components, copper lines, and in the power line range (physical parameters). They offer a frequency range of 50 Hz to 3.5 kHz, a level range of +20 dBm to -120 dBm, and a high dynamic range >60 dB.
Highlights
Selective level meters for frequencies from 50 Hz to 620 kHz, 2 MHz, and 3.5 MHz.
Frequency conditioning via a synthesizer with digital results display and storage.
Coaxial and balanced inputs for all standard impedances from 75 Ohms to 600 Ohms.
Applications
Measures insertion loss, attenuation distortion, NEXT, and FEXT.
Additional measuring bridges allow for measuring return loss (RL) and LCL/OSB.
Copper line qualification for POTS and xDSL up to VDSL. Allows for standard measurements on FDM, VFT, and baseband systems as well as pilot and noise measurements.
Key Features
Selectable measurement ranges from 25 Hz to 3.1 kHz up to broadband.
Runs >8 h from batteries with addtional battery pack, BAZ-33.
Level generator PS-33A can be used for end-to-end loop measurements (frequency range from 50 Hz to 2 MHz).
Purchase / Rental Options Available
| | |
| --- | --- |
| | Rental |
| | Buy Refurbished |
| | Buy New |
Need a quick quote? Please submit your contact details and test equipment requirements below and we'll be in contact within 4 business hours!
Please note we are an Australian based company
Note: Some users of Chrome, Google's web browser, have experienced submission issues with our quick quote request, which our Web Administrator is looking into. Please use Internet explorer or Mozilla's firefox in the mean time or contact us free on 1800 680 680
Need to send your JDSU 2033/36 for calibration or repair assessment?
Our temperature and static controlled Calibration Laboratory and Repair Facilites are staffed by fully credentialed professionals who are meticulous in their attention to detail, operates in full compliance with strict standards of measurement and reporting.
TMG provides a uniquely single point to send all of your RF, AC, DC, Optical and Video related test equipment for careful checking.
Please "Click-to-Call", dial 1800 680 680 or Contact us via email with your support requirements.