Product Categories >
JDSU
SmartClass Ethernet (10/100/1000 and Gig-E) Services Testing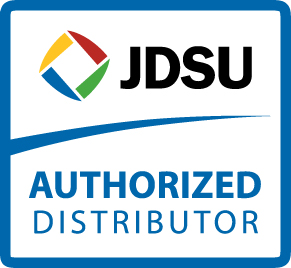 | | |
| --- | --- |
| Specifications: | |
Description
The SmartClass Ethernet product is an easy to use, cost effective Ethernet testing solution for basic physical layer cable testing, layer 2 and layer 3 traffic generation, and full RFC 2544 testing. The rugged, battery operated, application specific test tool enables field technicians to turn-up Ethernet and IP services by running an RFC 2544 test or following a set of methods and procedures. The product has been designed for front-line technicians who do not have experience dealing with emerging Metro Ethernet technologies and need a simple to use solution for Ethernet and IP testing. The SmartClass product comes in two major configurations, one a loopback only device and the other featuring full traffic generation.
Specifications
Applications

Full traffic generation tester
Layer 2 and Layer 3 traffic generation
Layer 3 Ping and Traceroute connectivity verification
RFC 2544 throughput verification and circuit qualification
Loopback and Traffic Generation modes
Installation of point-to-point and point-to-multipoint Ethernet services
Cable diagnostics to find electrical cable faults
Optical power measurements to check laser levels
Loop back and filter incoming traffic at IP or Ethernet layer
Link Statistics and Results to measure incoming frames and link status
View the SmartClass Ethernet Online Demo

Key Features

Electrical and optical testing in one convenient package
Line rate traffic generation and Layer 2 and Layer 3
RFC 2544 for throughput verification and line qualification
LED lights for quick verification
Electrical cable diagnostic tests checks cable length, type, and displays type of fault and distance
Cable diagnostics to determine if cable is straight-through/crossover
Optical power level measurements to verify fiber connectivity
Field replaceable AA batteries – supports rechargeable NiMH and commercially available Alkaline batteries
Field rugged packaging
Full telephone keypad for easy data entry
Purchase / Rental Options Available
| | |
| --- | --- |
| | Rental |
| | Buy Refurbished |
| | Buy New |
Need a quick quote? Please submit your contact details and test equipment requirements below and we'll be in contact within 4 business hours!
Please note we are an Australian based company
Note: Some users of Chrome, Google's web browser, have experienced submission issues with our quick quote request, which our Web Administrator is looking into. Please use Internet explorer or Mozilla's firefox in the mean time or contact us free on 1800 680 680
Need to send your JDSU SmartClass_Ethernet for calibration or repair assessment?
Our temperature and static controlled Calibration Laboratory and Repair Facilites are staffed by fully credentialed professionals who are meticulous in their attention to detail, operates in full compliance with strict standards of measurement and reporting.
TMG provides a uniquely single point to send all of your RF, AC, DC, Optical and Video related test equipment for careful checking.
Please "Click-to-Call", dial 1800 680 680 or Contact us via email with your support requirements.