Product Categories >
JDSU
FIBER ESSENTIALS TOOL KIT - AU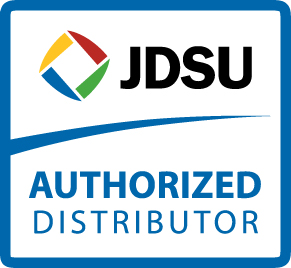 Description
Package includes main inspection microscope with patch cord microscope and power meter, consolidated with visual fault locater packaged into a convenient rubber enclosure to maximise ease and speed of use.
Inspect both sides of fiber interconnect, and accurately test and measure optical power with one device
Integrated functions and features eliminate switching between multiple devices
Input for FBP series probe microscope and a dedicated patch cord microscope (HP3-60-P4) lets users quickly and easily inspect both sides of fiber interconnects
1.8 inch TFT LCD to view clear, crisp, detailed images of fiber end faces with optimal resolution
Integrated power meter (OLP-6) for all single-mode and multimode applications, such as LAN, TELECOM, CATV, and DWDM testing
Modulation frequency detection lets users identify individual fibers
Three-year calibration period
TWINtest and Auto-? (with JDSU optical light source)
Purchase / Rental Options Available
| | |
| --- | --- |
| | Rental |
| | Buy Refurbished |
| | Buy New |
Need a quick quote? Please submit your contact details and test equipment requirements below and we'll be in contact within 4 business hours!
Please note we are an Australian based company
Note: Some users of Chrome, Google's web browser, have experienced submission issues with our quick quote request, which our Web Administrator is looking into. Please use Internet explorer or Mozilla's firefox in the mean time or contact us free on 1800 680 680
Need to send your JDSU FIT-S105-AU-PRO for calibration or repair assessment?
Our temperature and static controlled Calibration Laboratory and Repair Facilites are staffed by fully credentialed professionals who are meticulous in their attention to detail, operates in full compliance with strict standards of measurement and reporting.
TMG provides a uniquely single point to send all of your RF, AC, DC, Optical and Video related test equipment for careful checking.
Please "Click-to-Call", dial 1800 680 680 or Contact us via email with your support requirements.