Product Categories >
JDSU
Compact Network Test Platform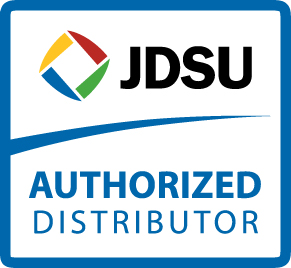 | | |
| --- | --- |
| Specifications: | |
Description
Support for Electrical and Optical Ethernet testing in a single module.
IPv6 option to enable installation and troubleshooting of IPv6 networks.
Modular hardware and software architecture is flexible and easily upgraded in the field. Allows testing of multiple services.
Supports Triple Play and FTTX testing, as well as TDM network testing.
Future-proof solution for circuit-switch to packet-switch migration.
Fully configurable - buy only what you need now, easily upgrade as needs change.
Rugged, hand-held platform ideal for field use.
Ability to perform traffic generation up to interface line rate and support automated RFC2544 at Layers 2 to 4 (Eth/IP/TCP/UDP).
Ability to generate and analyse traffic with various encapsulation schemes such as VLAN, VLAN Stacking (Q-in-Q), and MPLS.
PPPoE protocol support for emulation of data traffic in the last mile.
GigE and 10/100 Ethernet - Generate traffic and troubleshoot Ethernet links, both optical and electrical, for point to point or routed networks.
Specifications
Lightweight platform: only 2.4kg/5.3 lbs.
Large 8.4 inch transreflective TFT color display improves viewing under any conditions.
Intuitive graphical user interface with touchscreen
Long battery life using smart Lithium ion cell.
Connection checker with VFL, laser source, power meter, ORL, Loss Test Set and video inspection scope options.
Built-in optical talkset option for communicating along the fiber.
Remotely controlled (Ethernet/IP)
Fast data transfer via USB, Ethernet port and 1GB extended memory.
Comprehensive suite of PC software tools for post-processing of test results with FiberTrace (OFS-100) and FiberCable (OFS-200).
Purchase / Rental Options Available
| | |
| --- | --- |
| | Rental |
| | Buy Refurbished |
| | Buy New |
Need a quick quote? Please submit your contact details and test equipment requirements below and we'll be in contact within 4 business hours!
Please note we are an Australian based company
Note: Some users of Chrome, Google's web browser, have experienced submission issues with our quick quote request, which our Web Administrator is looking into. Please use Internet explorer or Mozilla's firefox in the mean time or contact us free on 1800 680 680
Need to send your JDSU MTS_6000A for calibration or repair assessment?
Our temperature and static controlled Calibration Laboratory and Repair Facilites are staffed by fully credentialed professionals who are meticulous in their attention to detail, operates in full compliance with strict standards of measurement and reporting.
TMG provides a uniquely single point to send all of your RF, AC, DC, Optical and Video related test equipment for careful checking.
Please "Click-to-Call", dial 1800 680 680 or Contact us via email with your support requirements.
TOP Relevant Products