Product Categories >
JDSU
SMART Optical Power Meter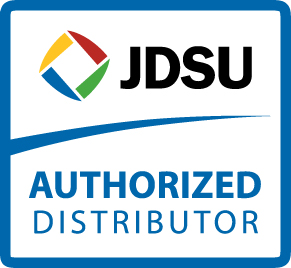 | | |
| --- | --- |
| Specifications: | |
Description
The JDSU OLP-57 Smart Selective Optical Power Meter for FTTX/PON is a high-performance power meter for testing, installing, and maintaining FTTX/PON systems. Its through-mode allows simultaneous measurement at all three wavelengths on the fiber, 1490 nm and 1550 nm downstream and 1310 nm upstream. The 1310 nm channel pro-vides correct power measurements of burst type upstream PON signals.
Easy pass/fail analysis via multiple-user adjustable thresholds per wavelength. Ten predefined, user-adjustable sets are provided.
Illuminated graphical user interface (GUI) displays all necessary parameters and up to three test results simultaneously.
Data transfer via USB interface.
Burst mode function for 1310 nm upstream.
Visual fault locator option at 635 nm
Economical option for fiber tracing, routing, and continuity checking
Universal push-pull adapter 2.5 mm (1.25 mm adapter optional)
Host USB data storage option
Unlimited result storage capacity via USB memory sticks
Easy and quick data transfer of stored measurement results
Specifications
Highlights

Up to 900 calibrated wavelengths for the highest performance range in the industry.
A large storage capability for up to 1000 test results with automatic date/time stamp.
Industry's first auto-zeroing function for outstanding accuracy with no manual zeroing required. The OLP-55 and OLP-57 offer the highest accuracy on the market.
Illuminated graphical user interface (GUI) displays all of the parameters and up to three test results simultaneously.
A USB port for remote operation as well as easy report generation and analysis.
Auto-lambda function provides automatic wavelength detection to speed up testing and avoid instrument setting failures.
Universal optical adapter system, including UPP adapters, ensures adaptation to all of the connectors in the field.

Applications

Testing of the industry's newest applications including broadband, PON, 40 Gbps, and Gigabit Ethernet.
Set user specific wavelengths.
The OLP-55 SMART Optical Power Meter is a high-performance power meter for installing and maintaining singlemode cables and networks.
The OLP-57 SMART Optical Power Meter is a high performance wavelength-selective power meter dedicated for testing, installing and maintaining FTTX and BPON/EPON/GPON systems. Its through-mode allows simultaneous measurement at 1490nm and 1550nm downstream and 1310nm upstream.

Key Features

The SMARTStar graphical user interface for fast, easy, and straightforward operation.
The SMARTEnergy power supply management system.
Traceable measurements to NIST/PTB standards for confidence in accuracy.
A robust, shock-proof, and splash-proof design for field operation.
One-handed operation in the field.
Quick start operation, requiring no warm-up time and reducing testing time.
Purchase / Rental Options Available
| | |
| --- | --- |
| | Rental |
| | Buy Refurbished |
| | Buy New |
Need a quick quote? Please submit your contact details and test equipment requirements below and we'll be in contact within 4 business hours!
Please note we are an Australian based company
Note: Some users of Chrome, Google's web browser, have experienced submission issues with our quick quote request, which our Web Administrator is looking into. Please use Internet explorer or Mozilla's firefox in the mean time or contact us free on 1800 680 680
Need to send your JDSU OLP-57 for calibration or repair assessment?
Our temperature and static controlled Calibration Laboratory and Repair Facilites are staffed by fully credentialed professionals who are meticulous in their attention to detail, operates in full compliance with strict NATA (National Association of Testing Authorities) standards of measurement and reporting (ISO/IEC 17025:2005).
TMG provides a uniquely single point to send all of your RF, AC, DC, Optical and Video related test equipment for careful checking.
Please "Click-to-Call", dial 1800 680 680 or Contact us via email with your support requirements.