Product Categories >
JDSU
Rubidium Timing Signal Reference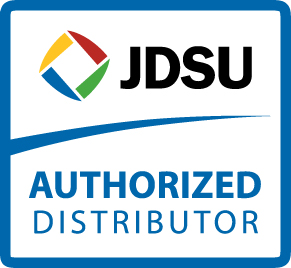 Description
The TSR-37 Rubidium Timing Signal Reference is a low-cost portable timing reference source for telecommunications and metrology test and measurement applications. The Rubidium clock provides highly accurate output signals. The unit is available in two versions, TSR-37 and TSR-37 GPS.
Highlights
Accuracy: <5 x 10E-11 without GPS antenna.
Accuracy: <1 x 10E-12 with GPS antenna.
12 outputs: unframed and framed (E1 and T1).
Ideal for field use.
Input for GPS antenna or an external Cesium reference.
Applications
Reference clock for wander analysis (with the ANT-20, for example).
MTIE and TDEV measurements up to 1000 s without GPS.
5 MHz and 10 MHz reference source for metrology applications.
Key Features
Near Cesium quality with an external GPS antenna.
Compact and lightweight (4.3 kg).
Auto-calibration input for the internal Rubidium oscillator.
Fast warm-up time (less than 6 min).
Status LEDs on the front panel.
Purchase / Rental Options Available
| | |
| --- | --- |
| | Rental |
| | Buy Refurbished |
| | Buy New |
Need a quick quote? Please submit your contact details and test equipment requirements below and we'll be in contact within 4 business hours!
Please note we are an Australian based company
Note: Some users of Chrome, Google's web browser, have experienced submission issues with our quick quote request, which our Web Administrator is looking into. Please use Internet explorer or Mozilla's firefox in the mean time or contact us free on 1800 680 680
Need to send your JDSU TSR-37 for calibration or repair assessment?
Our temperature and static controlled Calibration Laboratory and Repair Facilites are staffed by fully credentialed professionals who are meticulous in their attention to detail, operates in full compliance with strict standards of measurement and reporting.
TMG provides a uniquely single point to send all of your RF, AC, DC, Optical and Video related test equipment for careful checking.
Please "Click-to-Call", dial 1800 680 680 or Contact us via email with your support requirements.