ENI / Electronics and Innovation (E&I)
525LA
RF Power Amp. 1.0 MHz - 500 MHz; 25W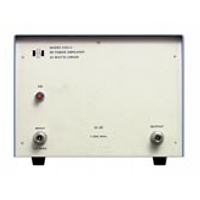 Description
The 525LA is a class A power amplifier. The 525LA is designed for RFI/EMI applications as well as general laboratory purposes. The 525LA delivers low distortion amplification over the entire useful frequency range.

Specifications
Frequency range 1.0 to 500 MHz
25 W output power
50 dB gain (nominal)
50 Ohm impedance
N(f) connectors, input/output
115/230 Vac; 50/60 Hz operation
Weight: 42 lb; Size: 190 mm (7.5 in)H x 259 mm (10.2 in)W x 434 mm (17.1 in)D
You Might Also Like...
Microwave Preamplifier, 1 GHz to 26.5 GHz
Preamplifier and Power Amplifier
Software: ClickCartPro, Copyright 1999-2018 Kryptronic, Inc. Exec Time: 0.14179 Seconds Memory Usage: 5.676384 Megabytes