EXFO
PPM-352B-EG-ER
PON Power Meter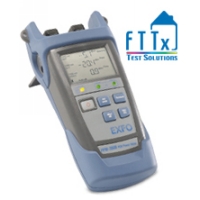 Description
The PPM-352B-EG-ER allows for the testing of passive optical networks (PONs) at the three main wavelengths (1310, 1490 and 1550 nm) used in fiber-to-the-home (FTTH) and fiber-to-the-premises (FTTP) networks. This Power Meter features two-port, pass-through connection for ONT signal measurement and simultaneous measurement of all PON signals; filtered detectors for individual measurement of each wavelength; and upstream burst detection at 1310 nm.
Specifications
Tests BPON, EPON and GPON Networks
Up to 10 User-Definable Threshold Sets
1310 nm Range: +10 to -40 dBm
1490 nm Range: +12 to -40 dBm
1550 nm Range: +25 to -40 dBm
You Might Also Like...
| | |
| --- | --- |
| | |
Software: ClickCartPro, Copyright 1999-2018 Kryptronic, Inc. Exec Time: 0.130445 Seconds Memory Usage: 5.674789 Megabytes