Fluke
36
Clamp Meter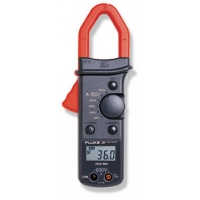 Description
Now you can do more with one tool. The Fluke Model 36 is a rugged, reliable clamp meter that measures ac and dc current and volts. This versatile clamp meter offers True-rms sensing and MAX Hold for measuring inrush current or maximum load on a circuit. Tapered jaws and slim profile let you get at cables in tight places. Use it for troubleshooting in industrial, commercial, avionics and marine environments.
Specifications
DC voltage range: 200.0 V, 600 V
DC voltage accuracy: +/- 1% of reading
AC voltage range: 200.0 V, 600.0 V
AC voltage accuracy: +/- 1.5% of reading
DC current range: 200.0 A, 1000 A
DC current accuracy: +/- 0.5% of reading
AC current range: 200.0A, 600 A
AC current accuracy: 0.5 to 600A: +/- 2% of rdg
Resistance range 200.0 ohm
Max clamp size 1.5"
You Might Also Like...
Software: ClickCartPro, Copyright 1999-2018 Kryptronic, Inc. Exec Time: 0.13706 Seconds Memory Usage: 5.633301 Megabytes