JDSU / VIAVI
EOFS200
Optical Fiber Cable Software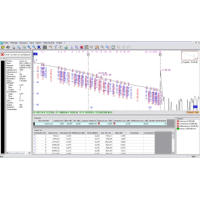 Description
Improve productivity and generate professional cable acceptance test reports using OTDR, PMD, AP, CD, IL, and ORL results
All results analysis (supported by OFS-100).
Direct access keys for easy process and efficiency.
Complete fiber characterisation reporting capability, including bi-directional OTDR, CD, PMD, AP, IL, and ORL.
Advanced OTDR functions for loopback and mid-point management.
Powerful report preview for error-free printout.
Includes all OFS-100 FiberTrace features.
Automatic bi-directional OTDR trace combination according to queries.
Bi-directional status management, including missing events, distance too large, etc.
Individual or combined OTDR, PMD, IL, and ORL report generation.
Step-by-step report generation.
Report preview.
Out-of-range alarm on all measurements.
Software: ClickCartPro, Copyright 1999-2018 Kryptronic, Inc. Exec Time: 0.133498 Seconds Memory Usage: 5.602554 Megabytes