JDSU / VIAVI
OMK-7
Pocket Size Optical Test Kit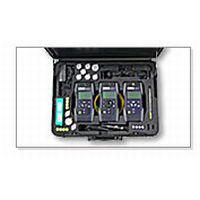 Description
The JDSU Pocket Sized Fiber Optic Test Kits include a light source (OLS), a power meter (OLP), and other accessories.
The OMK-7 is a dual-wavelength optical test kit with a dual-port laser source (OLS-6) and a power meter with a UPP interface (OLP-8) for singlemode power measurement and loss test especially at higher power applications, including CATV and DWDM.
Highlights
Optimized combinations of instruments and accessories.
Supplied in a robust case.
Software: ClickCartPro, Copyright 1999-2018 Kryptronic, Inc. Exec Time: 0.154903 Seconds Memory Usage: 5.601669 Megabytes