JDSU / VIAVI
SB Series
Programmable Fibre Switches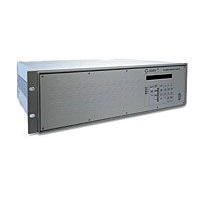 Description
The JDSU SB series of Benchtop Programmable Switches can be controlled using the front panel keys and a numeric pad or via GPIB and serial RS-232 interface.

The SB series switches are available in four basic configurations:
C configuration - is a single common input model
D configuration - provides simultaneous connection of a bank of input fibers to output fibers
E configuration - allows any input to be connected to any output while other inputs/outputs are aligned to subsequent/adjacent channels. The switch is non-blocking in this mode and other inputs/outputs are aligned
F configuration - enables one of the inputs to be aligned with an output in a blocking sense, with a result in reduction of available output channels and a low-loss M x N blocking switch.
Operation of these switches is based upon JDSU's proven expanded beam lens technology, which utilizes a precision stepper-motor to align optical channels. The use of collimating lenses minimizes insertion loss (IL) and improves repeatability and performance. Internal temperature control of the switching mechanism ensures excellent operational stability.
Both single-mode (SM) and multimode (MM) versions of the SB series switches are available. The series features the high level of performance required for multi-unit testing in R&D and in manufacturing environments. The compact, portable SB switch is highly suited for applications in telecommunications, manufacturing, and test environments.
JDSU's SB Series switches are known in the fiberoptic industry for their low IL and excellent repeatability. In addition to the many standard options available, we also customize switches in this series to meet your specific application needs.
Safety Information
Complies to CE requirements plus UL3101-1 and CAN/CSA-C22.2 No.1010.1
Applications
Fiberoptic component testing and measurement
System testing
Research and development (R&D)
Network monitoring
Key Features
SB series

SB series can accommodate up to 48 channels and offer up to two input channels
Low IL, 0.4 dB typical
Excellent repeatability, 0.003 dB typical
High return loss (RL) > 65 dB typical
GPIB and RS-232 remote control
| | |
| --- | --- |
| Specifications: | |
Software: ClickCartPro, Copyright 1999-2018 Kryptronic, Inc. Exec Time: 0.390093 Seconds Memory Usage: 5.607719 Megabytes