SyntheSys Research
BSA12500A
12.5 GB/s BERTScope S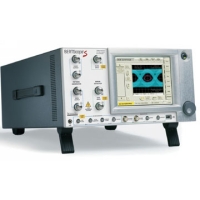 Description
The flagship BERTScope has everything you will need to perform receiver compliance testing and advanced analysis. Featuring easy and flexible stress testing, physical layer analysis such as Bit Eror Rate Contour and Jitter measurements, and the new Compliance Contour view for mask it represents a breakthrough in insight and saved development time. Compliance Contour is a new bridge between BER and mask testing, needed because of the requirements of standards such as OIF CEI and XFP/XFI. These new standards require compliance to masks at BER levels of 10-12, a feat beyond mask test capabilities of currently available instruments. BER contour, however, is the ideal tool for gauging parametric performance at these levels, and Compliance Contour allows comparison of compliance masks with measured BER Contours, making it easy to see where issues lie.



Click here to request the Synthesys Research "Anatomy of an Eye Diagram"
or "Anatomy of Clock Recovery" poster.
Specifications
High Speed BER Measurements
Integrated, Calibrated Stress Generation
- Sinusoidal Jitter to 80 MHz
- Random Jitter
- Bounded, Uncorrelated Jitter
- Sinusoidal Interference
Electrical Stressed Eye Testing for XFP/XFI, OIF/CEI, Fibre Channel, Serial ATA IO
Optical Stressed Eye Testing for 10 GbE, 1, 2, 4, and (in the future) 8x Fibre Channel, 1 GbE
Integrated Eye Diagram Analysis with BER Correlation
Physical Layer Test Suite with Mask Testing, Jitter Peak, BER Contour, and Q-Factor Analysis
Compliant Contour Test for Mask Performance Evaluation to BER 10-12, as called for by latest standards includingXFP/XFI and OIF-CE
BitAlyser Error Analysis
- Pattern Sensitivity Analysis
- Error Free Interval Analysis for periodic jitter identification
You Might Also Like...
Software: ClickCartPro, Copyright 1999-2018 Kryptronic, Inc. Exec Time: 0.136728 Seconds Memory Usage: 5.697411 Megabytes