Tektronix
TDS3052
2 Ch 500 MHz Digital Oscilloscope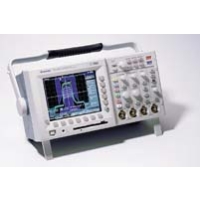 Description
The TDS3052 is a member of the TDS3000 series oscilloscope family - the lowest priced, most portable Digital Phosphor Oscilloscope (DPO) family available today. DPOs have an intensity graded color display that provides information about the frequency of occurrence of signal amplitudes and widths, which helps the user locate and characterize waveform anomalies that can be elusive on traditional Digital Storage Oscilloscopes. The fast update rate of DPOs also makes it easier to capture and display infrequent waveforms or waveform variations.
Specifications
2 Channels
500 MHz Bandwidth
5 GS/s Sample Rate on Each Channel
10 kpoints Maximum Memory Length
1 mV-10 V/div Vertical Sensitivity
Full VGA Color LCD
Built-in Floppy Disk Drive
| | |
| --- | --- |
| Specifications: | |
You Might Also Like...
Software: ClickCartPro, Copyright 1999-2017 Kryptronic, Inc. Exec Time: 0.2644 Seconds Memory Usage: 5.696472 Megabytes