Tektronix
THS730A
Handheld Battery Operated Oscilloscope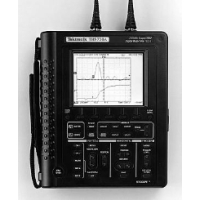 Description
THS730A Handheld Oscilloscope is equipped with a bandwidth of 200MHz, a sample rate of 1 GS/s per channel, and a 2 ns to 50 s/div time/division range. This rugged, full-featured oscilloscope offers the most comprehensive triggering capabilities - external trigger and extensive triggering including delay, pulse width, and video. The THS730A offers an ideal portable oscilloscope capable of handling most all desktop and at the site applications. Loading a 3 3/4-digit DMM with datalogger, a 8 ns glitch capture, and a NiCd battery and AC adapter on such a high performance scope places the THS730A on top of its class.
Specifications
Bandwidth: dc to 200 MHz
Vertical Sensitivity: 5 mV/div to 50 V/div
2 input channels
Sample rate: 1 GSa/s
8 bit vertical resolution
Sweep speed: 50 s/div to 2 ns/div
Record length: 2500 points
DMM functions
LCD display
Interfaces: GPIB, RS-232, Centronics
BNC(f) input connectors
1 megohm or 50 ohm input impedance
Battery operation; battery life is approx. 2 hours on full charge
| | |
| --- | --- |
| Specifications: | |
You Might Also Like...
Software: ClickCartPro, Copyright 1999-2018 Kryptronic, Inc. Exec Time: 0.171213 Seconds Memory Usage: 5.698158 Megabytes