Newsletter Contents
---
New Product: Multimeter with Thermal Imaging!

Introductory Special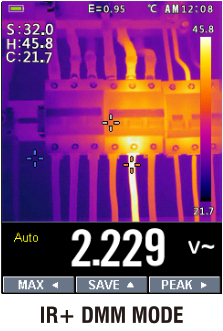 We are very excited to now be offering CEM's range of Electrical & Industrial Test Equipment to the Australian Industry..... which includes their leading edge; Multi-function Installation Testers, and Multimeters/Clamp Meters with Built-in Infrared Thermal Imaging or Integrated 10MHz Oscilloscope.
*** SPECIAL INTRODUCTORY OFFER ***
CEM DT-898A Professional True RMS Industrial Digital Multimeter
with Built-in Thermal Imager, and TFT Colour LCD Display.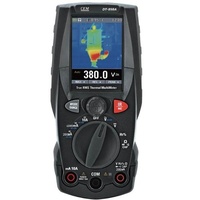 4000 count 2.4 inch TFT Colour LCD Display
Built-in Thermal Imager with Min, Max and Centre crosshair temperature readings
Fast 50Hz Thermal Image frame Refresh Rate with Adjustable Emissivity Value
AC, AC+DC True RMS Voltage & Current
DC Voltage & Current
Resistance & Continuity Test
Frequency & Duty Cycle
Diode Test
Capacitance
Rechargable 1400mAh Li-ION Battery
Supplied with 3 YEARS Warranty,
and FREE Recalibration after 12 months -
Save $250!
---
Comms Connect Exhibition Melbourne, 27-28th November 2019

TMG/VIAVI Presenting Solutions for 5G/4G Testing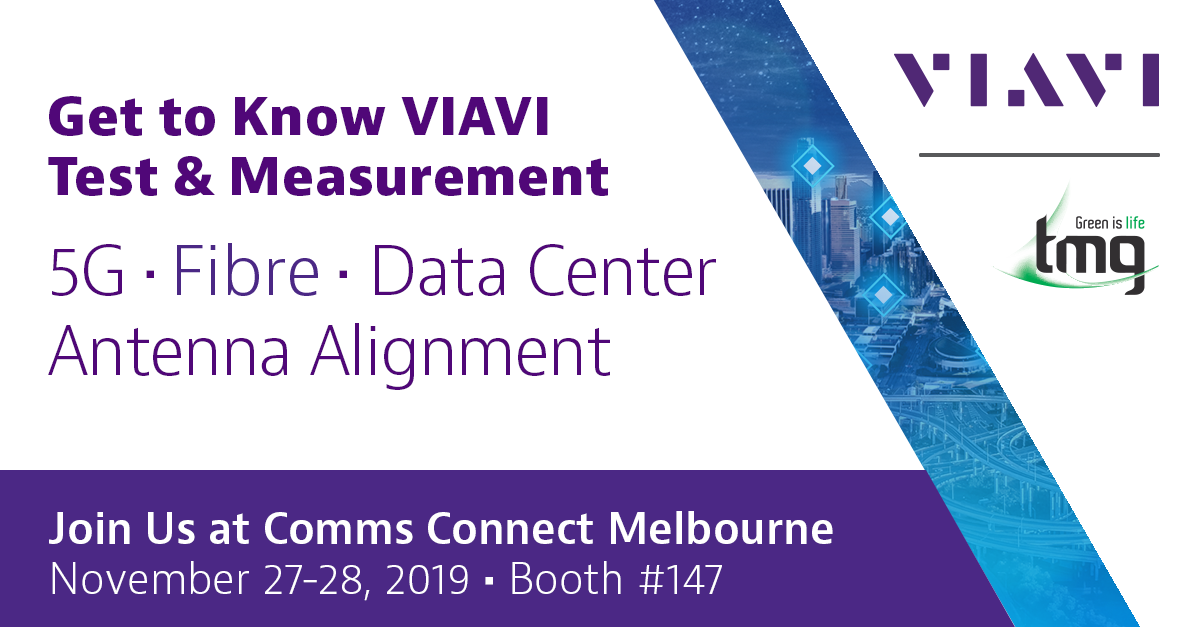 Comms Connect Melbourne is located at the Melbourne Convention & Exhibition Centre ("Jeff's Shed").
Catch TMG and VIAVI at Booth #147 on the 27th & 28th November, presenting solutions to resolve many of the 5G deployment challenges within the industry.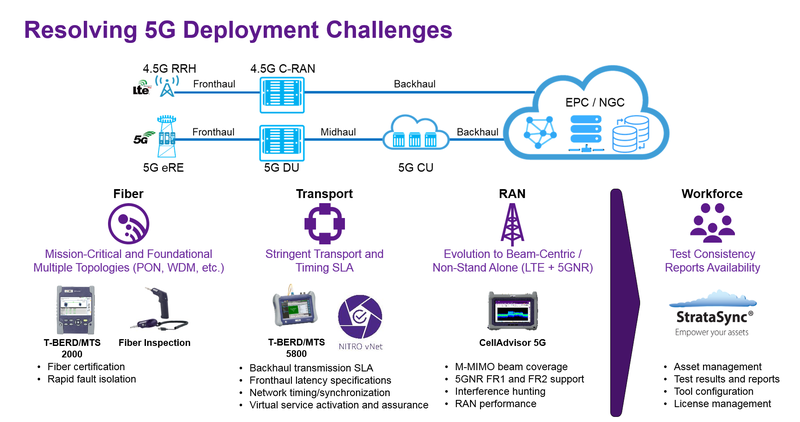 The VIAVI solutions presented will cover Optical Fibre, RF cable, Back Haul Transmission, Antenna Alignment and Radio Access Network testing.TMG is VIAVI's Master Distributor in Australia
---
Rental Equipment for Civils & Telecommunication Projects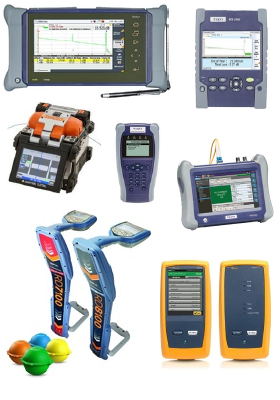 Depending on your circumstances, you may be reluctant to commit to purchasing or leasing test equipment for the long term. We've witnessed there are definitely peaks and troughs in all industries and projects throughout Australia.
Renting for the short to medium term may be the solution for you to meet your immediate or upcoming project operational needs
We have a large inventory pool based out of Melbourne, and provide very competitive rental rates tailored especially for civil & telecommunication projects offering a unique rental price reduction model to the industry.
Give us a shout out if you feel you may benefit in renting for short-term needs.
---

Service Centre News
For the remainder of this month, we have an exciting new service special for you!
We are offering Hand-held Multimeter Calibrations for only $99 excluding GST. An additional saving of over 30% from our usual low price.
This includes a traceable Calibration Certificate from our NATA certified lab.
If you don't want to miss out, contact our Customer Service team on 1800 626 500 now to book in your device before the special ends on the 30th of November.
As always, the TMG Service Centre are here to help you with your Calibration, Repair and Technical Support needs. So don't hesitate to give them a call on 1800 626 500 or email customer.service@tmg.com.au.
---
NEW! FTTC Install and Maintenance Kit

Time to get your PON On!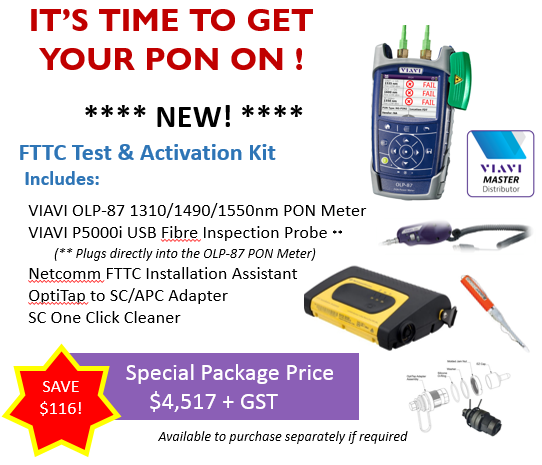 With PON testing ramping up in the NBN FTTC space, we've just released a new FTTC Test & Installation Kit.
The kit includes; a PON meter, USB fibre inspection probe, Netcomm FTTC Installation Assistant, One Click Cleaner and an OptiTap to SC/APC Adapter for plugging into the Multi-port.
We can provide these items separately too if needed.
---
Promotion: Honeywell XL Gas Detector Kit with Free Adaptec Safety Glasses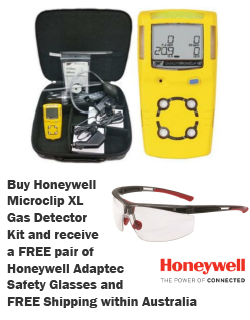 Until the End of November, for every Honeywell XL Gas Detector Kit purchased you will receive free pair of Honeywell Adaptec Glasses with Free Shipping Australia Wide.
To take advantage of this offer, purchase a new Gas detector via Contractor Essentials (it will add the glasses automatically) and we can dispatch to you the same or next business day.
We also stock a comprehensive range of other Honeywell Gas Detector models, Replacement accessories and calibration/bump stations.
---
Trilithic (VIAVI) I-Stop Filters for HFC Testing

Available Now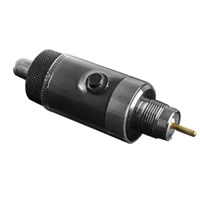 We have the Trilithic (VIAVI) I-STOP filters in stock to use for testing with the HFC signal level meters.
The I-Stop reverse test probe is a test accessory that screws into the KS port on the distribution tap that is used with the HFC signal level meters and/or analysers for bi-directional measurements with no risk of power damage or interruption to customers services.