Newsletter Contents
---
NBN Unify has been Awarded!

TMG are here to help with all of your Unify essentials…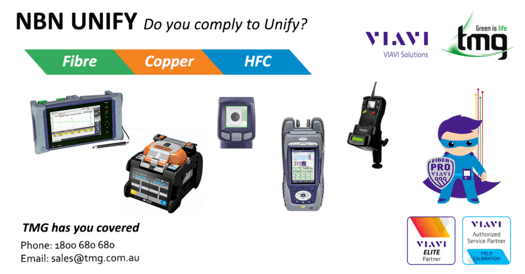 The new maintenance contract for the NBN network starts September 2020 and is called Unify. Field Technicians engaged with this contract will be required to find and fix faults on the fibre, HFC and copper sections of the network. This must be carried out within the time frames set by the NBN, with no defects reported, after the job has been completed.
To achieve finding faults quickly, the test equipment must be of high quality, easy to use and in some cases, NBN approved
TMG Test Equipment is proud to be the only authorised supplier of Viavi test equipment to be used on the NBN Network.
---
TMG Tech Support

DOCSIS 3.1 & Ingress Software for the Viavi ONX-620
As nbn rolls out DOSCSIS 3.1 services across the nation, you'll need to purchase both the DOCSIS 3.1 and Ingress software options to effectively test and fault find the network.
You can now order these licences directly from our Contractor Essentials website and receive your licence via StrataSync in 24-48 hours.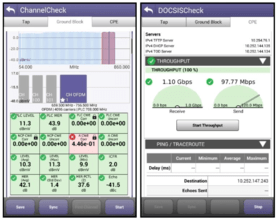 Purchase now from Contractor Essentials:
Are you an advanced technician working on the HFC network?

VIAVI ONX-630-NTX Network Tester
Now nbn approved and in stock ready to ship!
---
5G Cell Site Installation

NEW 5G Packages and additions to our portfolio

We're excited to announce TMG's new VIAVI OneAdvisor-800 Packages.
Perfect for cell-site installation and maintenance. Cut down the amount of equipment you need while also cutting costs. The OneAdvisor 800 is the all in one easy to use platform that grows as your business does.
New OneAdvisor 800 Packages:
ONA800-CAA-TMG: The base unit covering all of your Cable & Antenna analysis requirements in one simple package for under $10,000!
ONA800-MULTI-TMG: The first true RF and Fiber multifunction tester package on the market. In addition to Cable & Antenna Analysis, this combo package includes an onboard OTDR module (1310/1550nm). No need to buy two piece of test equipment and spend twice. Purchase one and save over 40%!
ONA800-SPECAN-TMG: The latest in real-time spectrum analysis and 5G-NR in one package.
We are offering special package deals with other essential 5G Test equipment such as the VIAVI MTS-5800, Kaelus iPA PIM Testers, 3Z RF Vision Antenna Alignment Tools, Narda Radaman 2XTs and much more.
Get everything you need in one place, at one low price - saving you time and money!
---
VIAVI 5G Field Webinar Series

Catch up on the latest 5G technical webinars

---
Locator Information

Magnetic locators and Rodders
Magnetic Locators
The Radiodetection (Schondestendt) Magnetic Locator range will locate ferrous metals as small as nails and survey pins in the ground at depth up to 5.48m (soil and object dependant).

What type of Locator is right for me?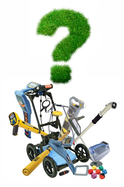 Our Locator Selection Guide offers an introduction to the type of locators available based on the type of Underground Cable, Metal, Plastic or Reinforced steel Concrete Pipes, Markers or Steel material you commonly need to locate.
Need Further Advice? Feel free to give us a call on 1800 680 680 or simply reply to this email.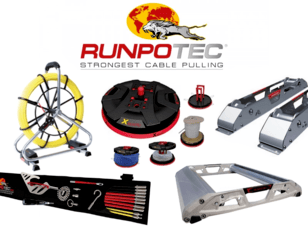 We are constantly expanding our Runpotec Range. Made in Germany, these high quality rodders and drum rollers are the smart choice!
---
Service Centre News

Make sure you are running at 100%!
With nbn Unify you are sure to put your OTDR through it's paces, now is the best time to ensure your OTDR is running at its best!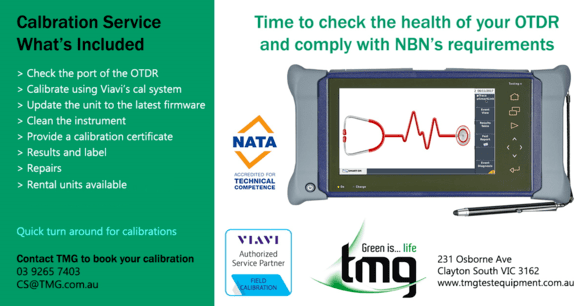 TMG also provide a verification service for the class leading Viavi ONX-580 (ONX-VDSL-TMG-BV).
FAST Turn Around Time and TMG Verification Report provided for only $175 + GST.
Contact our Customer Service team on 1800 626 500 now to get your test equipment back to 100%
As always, the TMG Service Centre are here to help you with your Calibration, Repair and Technical Support needs. Give them a call on 1800 626 500 or email customer.service@tmg.com.au to discuss your requirements.
---
Did you know?

The #1 reason for fibre connection failure…
Did you know that fibre hygiene is the number one cause of fibre connection failure?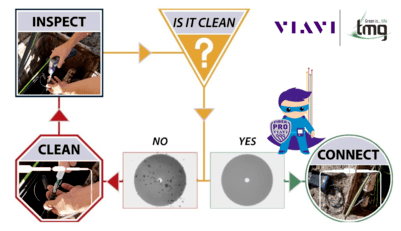 Unless you inspect your fibre ports, you will never know if your one-click cleaner has really done its job. Fibre inspection is not just a best practice, it WILL save you money and time (re-rolls) by ensuring you're not damaging your high-quality test equipment, patch leads, BJL drop cables etc!
---
HUBER+SUHNER turns to TMG & VIAVI Solutions to Validate Customer Datacenter Upgrade

It's a Win for all parties when a DC Upgrade is successfully implemented.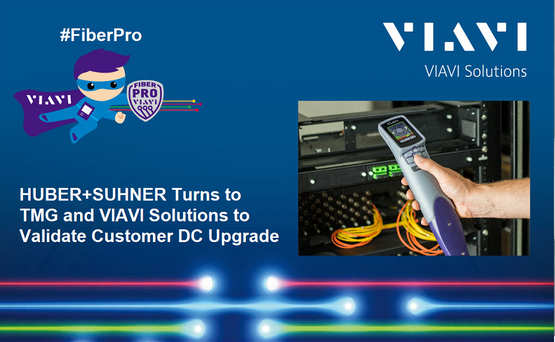 Huber+Suhner approached TMG looking for the right testers to help their customer to validate their installation. VIAVI test and validation tools were chosen for sign-off of the customer's infrastructure installation. TMG assisted in supplying MPOLx and Sidewinder products. TMG also conducted a hands-on training for the customer on the use of the testers and assisted in the initial testing. Power meter and Light source equipment (MPOLx) and an inspection camera (Sidewinder) were used for all OM4 and OS2 commissioning.
---
Renewable Energy Testing

TMG create synergy with Typhoon HIL & Regatron
TMG are working with their long-standing programmable power supply partner Regatron, and their new partner Typhoon HIL, to bring innovative integrated PHIL (Power Hardware-In-the-Loop) solutions to the Australian market.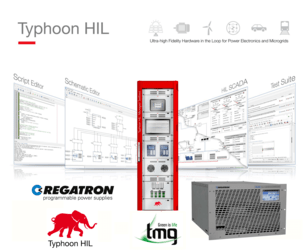 Power Hardware-in-the-Loop (PHIL) simulation is an extension of HIL, in which the real-time simulation environment is capable of exchanging not just low-voltage, low-current signals, but the power required by the Devices under Test (DUT)
Closed loop applications emulated using Regatron AC & DC amplifiers with Typhoon HIL602+ include:
Linear load with controllable power factor
Rectifier load (with active P-HIL loop handling)
Grid impedance
Electrical machines
A real world example is Electric Vehicle testing and emulation, including but not limited to Regenerative braking, Battery & Super Cap, Charging Station & Vehicle-to-grid [V2G].
Interested in finding out more?
Feel free to give us a call on 1800 680 680 or simply reply to this email.
---
Contractor Essentials Online Special

Valid until 30th September, 2020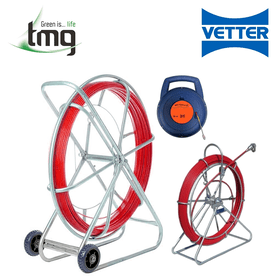 $20 off Vetter Rodders
Pricing starts from $355 + GST
Need Further Advice in regards to Rodders?
Feel free to give our experienced team a call on 1800 680 680 to discuss your needs.
---
Important information regarding COVID-19 and our response
At TMG Test Equipment our absolute priority has always been the health, safety and wellbeing of our staff, customers and suppliers.
Despite the current COVID19 Stage 4 Restrictions in place throughout Melbourne, TMG Test Equipment is regarded as an essential service.
We will continue to operate whilst observing strict and disciplined safety standards, which we have now enhanced in response to the latest advice from the Victorian Government.
Our Service Centre is also still open with no change to our operating hours. However, we are taking extra precautions within our business and have implemented additional levels of regular hygiene control around our offices and workshop.
Please stay safe, let's stick together as this is a challenge that will take our entire community to overcome.
Further information in regards to our approach to;
Meetings, Training, Product Demonstrations, Service Centre, Product Stock Levels, and Technical Support
can be found online here: TMG / Contractor Essentials COVID-19 Response