About Us
About Us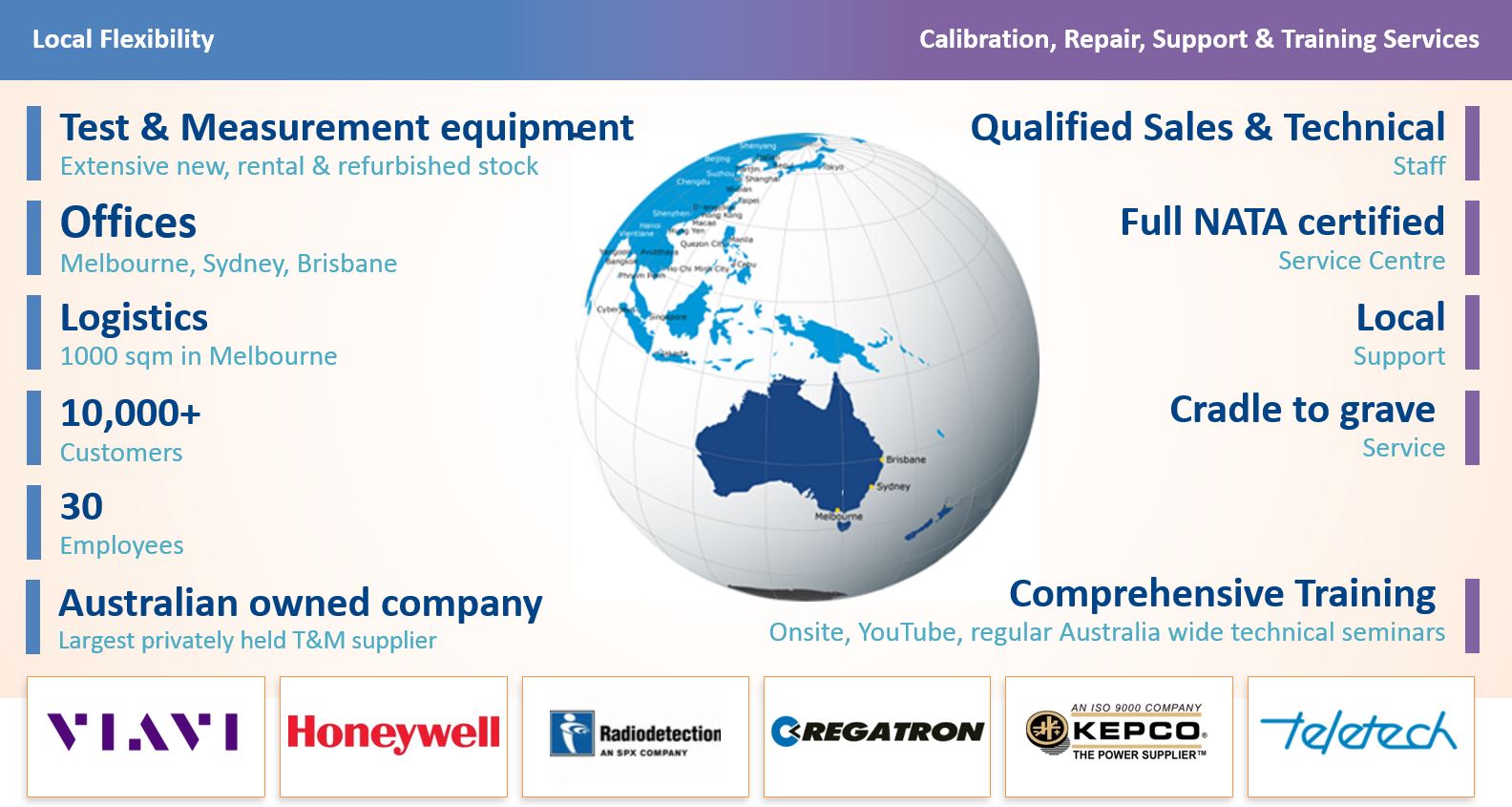 We pride ourselves in providing the following, all under one roof:
Asset procurement (Purchase or Lease), management & disposal

Calibration & Repair

Substantial stock holding of both new, refurbished & rental test equipment

After sales support (warranty, post-warranty, training/seminars)
We focus on meeting the needs of not only major organisations (i.e. Telco's), but also Delivery Partners, sub contractors and training organisations.
This includes creating Contractor Packages available to meet your test equipment, tooling, OH&S and PPE requirements (as defined by the likes of NBN, Telstra, Optus & their Delivery Partners).
We invest in obtaining and maintaining appropriate regulatory, vendor and industry accreditation(s) - quality & technical, including:
NATA (National Association of Testing Authorities - AS ISO/IEC 17025:2017)
How do we achieve this?
By focusing as a team for controlled, sustainable business growth and diversity; understanding the needs and expectations of our customers; encouraging and supporting innovation; growth and success in our people.
---
Our Partners & Suppliers
---
FlexiCommercial

​A flexible finance solution gives your customers more buying power with minimal impact on their cash flow. Providing an equipment leasing option makes even big ticket items easy to afford through smaller, manageable payments.
Telecommunications Test Equipment (Fibre, Copper, HFC, Metro)

Viavi Solutions

​TMG are VIAVI's Elite Partner in Australia, with a focus on the major Telco's prime & subcontractor market.

VIAVI's Copper, HFC, Fibre-optic & Transmission testing technologies are our speciality:

ADSL/VDSL Test Sets

Optical Time Domain Reflectometers [OTDR]

Optical Loss Test Sets

HFC / Cable TV Test Sets

Passive Optical Network [PON] Power Meters,

GigE, 10GigE and Fibre Channel Test Sets

SDH/PDH Test Sets, & Optical Visual Inspection)

Teletech

Australian company designing & manufacturing products including: range of single-operator pair identifiers with remote control of the line termination (i.e Loop-a-Line range consisting of TX905, TX910, TX915, and TX935), cable testers for broadband services including ADSL, HDSL, ISDN and SHDSL (i.e. TX120A and TX125 and a Multi-Line Identifier TX180).

Kingfisher International

Australian company designing & manufacturing handheld fiber testers & fiber optic test kits to test, inspect, certify and maintain fiber optic cable.

Fluke Networks

Fluke Networks is a leader in precision calibration instruments, equipment, service & software for electrical & RF measurements.
Telecommunication Industry Hand Tools (Fibre, Copper, HFC)

Ripley Miller

​The Miller brand of products is comprised of tools for the fiber optic and telecommunications industries and offers wire cutters and slitters for all types of small wire, cable and fiber optic cable

Ripley Cablematic

The Cablematic product line features coring and stripping tools, drop cable trimmers and compression/crimp tools for the CATV, Telecommunications and Wireless industries. Cablematic tools prepare trunk and distribution cables in addition to drop and messengered cables.
Passive Inter-modulation Testers (PIM Testers)

Kaelus

​Kaelus is a recognized leader in test and measurement instruments, cell-site filters, combiners and tower mounted amplifiers.
Pipe, Cable and Materials Locators

Radiodetection

​Radiodetection's product range includes tools for damage prevention to buried services; powerful video systems for pipeline inspection; high-performance dehydrators and cable-test products for telecoms; and solid-state sensors.
Occupational Health & Safety

Honeywell Safety

​Honeywell's full selection of safety products especially suited for the Utilities industry.

Honeywell Analytics

Honeywell Analytics design, build and manufacture reliable gas detection solutions.​
DC Power Supplies (<1000W)

Kepco

​Products range from cutting edge, OEM and programmable switch mode power supplies to high performance, low noise, linear power supplies. From small switchers to large, integrated systems of linear power supplies.
Grid Simulators & High Power DC Supplies

Regatron

The Swiss company Regatron AG designs, manufactures and sells digital electronic high-power programmable power supplies, intended for professional applications, and supports its customers both in the choice of the most appropriate solutions, both in the supply of know-how, specialized software, cabinets and systems, accessories, optional parts and technical support remotely or at the client location.

AC /DC programmable digital high power, battery emulators, grid simulators, three-phase AC/DC power supplies for bidirectional testing and simulation of batteries, amplifiers, precision linear simulators for photovoltaic inverters, AC sources: a production of excellence spread all over the world.
Electronics & Innovation

​E&I designs and manufactures Broadband Linear RF Power Amplifiers and Components, Phased Arrays and Transformers
Weinschel Associates

​Weinschel Associates design and manufacture high-quality Broadband RF and Microwave products for commercial and military markets domestically and internationally, using modern design, production, delivery, and service techniques to provide the best product at the best price.

Featuring High Power and High Frequency: Attenuators, Terminations, Power Dividers, Adapters, DC Blocks
High Performance Copper Time Domain Reflectometers

MOHR

​MOHR develops and manufactures a number of innovative test and measurement technologies, including the CT100 Series Time Domain Reflectometer (TDR) Cable Testers​.
Pelican Products

​Pelican Products is an American multinational company that designs and manufactures portable lighting systems, temperature controlled packaging and protective cases. Their products are used in many industries.
Toll Priority

​Toll Priority specialises in the express delivery of time-critical documents, parcels and digital information
Registered Training Organisations

JB Hunter

Courses designed to provide you with the knowledge and skills to do your job effectively.​ Specialising in Copper Jointing and HFC.

Milcom

Milcom is a Registered Training Organisation (RTO) specialising in the delivery of a broad range of Telecommunications courses.