Subscribe to our
YouTube Channel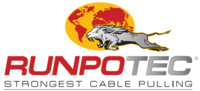 Runpotec
XB300
X Board Universal cable drum Winder/Dewinder 300mm
Description
The compact X-BOARD
XB300 is a universal, professional device for winding in/out cables on all small- to mid-sized cable drums.
The XB300 scores highly thanks to its small, lightweight and flat at design but is still capable of carrying up to 300 kg.
It enables trouble-free and efficient working without the tangled cables.
6 rubberised feet ensure a non-slip and secure standing position. Ideal for protecting already completed fl ooring surfaces.
The removable pin enables cable drums featuring varying hole sizes to be used.
For all types of cable and cable drums, even those with very small internal diameters.
Ideal for damaged cable drums.
Advantages

Universal cable drum Winder/Dewinder
Compact - lightweight - flat
Can bear loads up to 300 kg
Perfect for damaged cable drums
No tangled cables. Trouble-free and effi cient working.
Non-slip and secure standing position